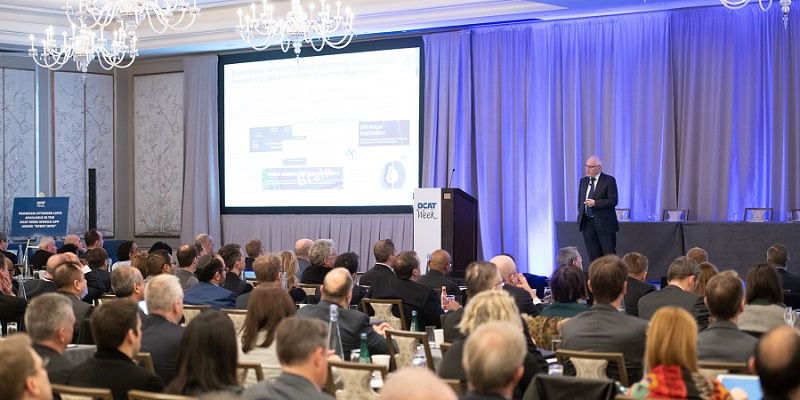 DCAT Week '20:
More Opportunities. More Business.
DCAT Week, held annually each March in New York City, is the premier business development event for companies engaged in pharmaceutical development and manufacturing. Organized by the Drug, Chemical & Associated Technology Association (DCAT), a global business development association composed of pharmaceutical and biopharmaceutical companies and suppliers of ingredients, development and manufacturing services, and related technologies, DCAT Week '20 (March 23-26, 2020) brings together DCAT members for high-level strategic meetings, networking events, and industry education programs.

Extraordinary Industry Education & Countless Networking Opportunities
DCAT Week education programs provide business intelligence, data and trends through keynote presentations, on-stage interviews, and panel discussions. In addition, networking events such as the Monday Night Meet-Up , the Member Company Networking Reception and the Women's Networking Breakfast offer opportunities for introductions, impromptu meetings and other business connections.

A new program, Private Equity's Expanding Role in the BioPharma Industry: Its Impact on the Pharma Customer-Supplier Relationship, will provide insight into the opportunities and challenges presented by growing private equity (PE)-ownership in the industry and its impact on the pharma customer-supplier relationship. This program will provide in-depth analysis of the financing levels, trends, and deal-making by PE firms into biopharma companies and CDMOs/CMOs and the implications for the industry, including on development and commercialization strategies of biopharma companies and how ownership structure influences sponsor companies' CDMO/CMO selection and supplier relationship management. Bain & Company and William Blair and Company are among the speakers.

As a convenience to attendees with busy meeting schedules, the popular Executive Insights from Industry Leaders program has been moved to an earlier time slot (7:30am-8:30am) and will provide an inside view from industry executives on what they view as the key issues impacting pharmaceutical/biopharmaceutical manufacturing and supply. Featured speakers include Mark Bamforth, President and CEO of Arranta Bio, a new CDMO focused on the human microbiome and former CEO and President of Brammer Bio, which was acquired by Thermo Fisher for $1.7 billion in 2019.

The education program, Dual Priorities for Sourcing 2020: Navigating China's Supply Challenges + Digitally Transforming Pharma, will explore two topics. Sourcing from China will look at how at the impact on new environmental regulation and enforcement in China, trade and other issues are affecting chemical/fine chemical production and the export of raw materials, intermediates and active pharmaceutical ingredients. An expert from Johnson & Johnson will discuss the impact on supply chains and supplier risk assessment and mitigation strategies. Digital Strategies in Sourcing and Supply Management will look at disruptive digital technologies, such as artificial intelligence, the Internet of things and blockchain, and advanced analytics, hold the potential to transform supply chains. Experts from IBM and North Carolina State University's Supply Chain Resource Cooperative will share current and potential use in the pharma manufacturing value chain.

A perennial favorite, the Pharma Industry Outlook Program with Networking Reception is invaluable for its in-depth market overview, presented by IQVIA, of the current and projected performance of the global pharmaceutical industry for both innovator and generic drugs with key data on the leading therapeutic areas and growth prospects in developed and emerging markets. The market overview will be followed by a panel discussion on the growing number of drug candidates receiving Breakthrough Therapy and Fast-Track designations from the FDA and how these accelerated approval mechanisms impact development and commercialization timelines, including manufacturing.