Week's news analysis
---
ADQ, Abu Dhabi holding companies,
acquires Swiss company Acino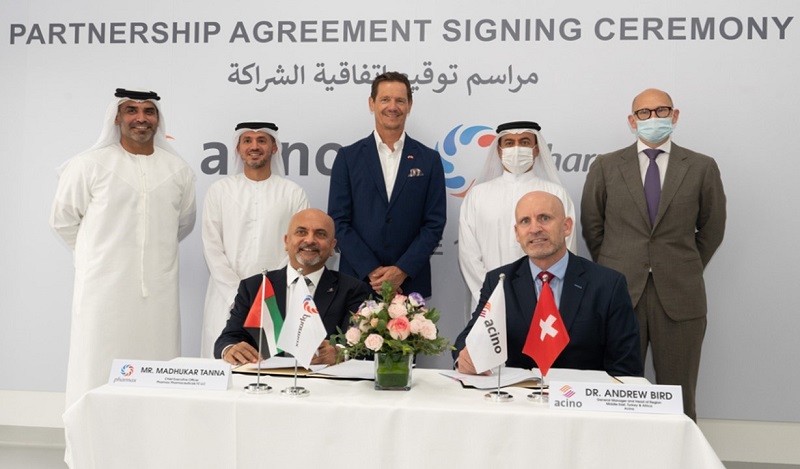 June 2021 - Agreement between Swiss Acino and UAE-based EU GMP-licensed Pharmax covers the licensing, manufacturing, and supply of select Acino products across the Middle East and Africa, based on the local needs of patients. ACINO
ADQ , a holding company spanning key sectors of Abu Dhabi's diverse economy, has reached a definitive agreement to acquire Acino from its current shareholders, which include Nordic Capital and Avista Capital Partners.

Acino is a swiss pharmaceutical company headquartered in Zurich. Acino is made up of two divisions:

Under brand 'Acino Switzerland', Acino provide high-quality medicines to emerging markets with a strategic focus on the Middle East, Africa, Ukraine / CIS including Russia, and Latin America.

A second division brings together out-licensing and contract manufacturing activities. Acino is a leader in advanced drug delivery technologies specializing in modified release oral forms and oral dispersible forms, for which it also holds patents. Acino supply finished in-house developed products and provide customized one-stop solutions from product development and registration to contract manufacturing, packaging and logistics.

The group's turnover is over 400 million euros and is firmly established on 6 industrial sites: 3 in Switzerland, Ukraine, South Africa and Estonia.

In partnership, Avista Capital and Nordic Capital acquired Acino in 2013 via a take-private transaction from the Swiss stock exchange (SIX: ACIN). Since that time, both investors supported Acino's long-term growth strategy and transformed the business to become a high-growth emerging markets- focused pharmaceuticals platform with significant market presence in the Middle East, Ukraine, Russia, and South Africa. Since the 2013 investment, Acino has executed a number of strategically-important acquisitions, including PharmaStart (Ukraine), Litha Healthcare (South Africa), and the acquisition of a portfolio of select over-the-counter (OTC) and prescription pharmaceutical assets from Takeda Pharmaceuticals, which expanded Acino's global footprint and addressable therapeutic areas.

With the acquisition of Acino, ADQ intends to create an integrated pharmaceutical platform in selected cutting edge markets with formulation development, licensing, manufacturing and marketing capabilities.

Earlier this year, ADQ acquired Amoun Pharmaceutical Company for $470 million, one of Egypt's leading manufacturers, distributors and exporters of branded pharmaceuticals and animal health products, and Pharmax Pharmaceuticals, a United Arab Emirates-based pharmaceutical company that manufactures and markets affordable, brand-name generic drugs.

ADQ purchased a minority stake in Biocon Biologics Limited for $232m, an India-based company specializing in the development, manufacture and commercialization of high-quality, affordable biosimilars in global markets.

Established in Abu Dhabi in 2018, ADQ is one of the region's largest holding companies with direct and indirect investments in more than 90 companies. Its portfolio of major enterprises span key sectors across Abu Dhabi's economy, including food and agriculture, aviation, financial services, healthcare, industries, logistics, media, real estate, tourism and hospitality, transport and utilities.
RELATED Recipharm will operate a new filling finishing plant in Morocco
---