Week's news analysis
---
Aenova opens new building for the production of highly potent drugs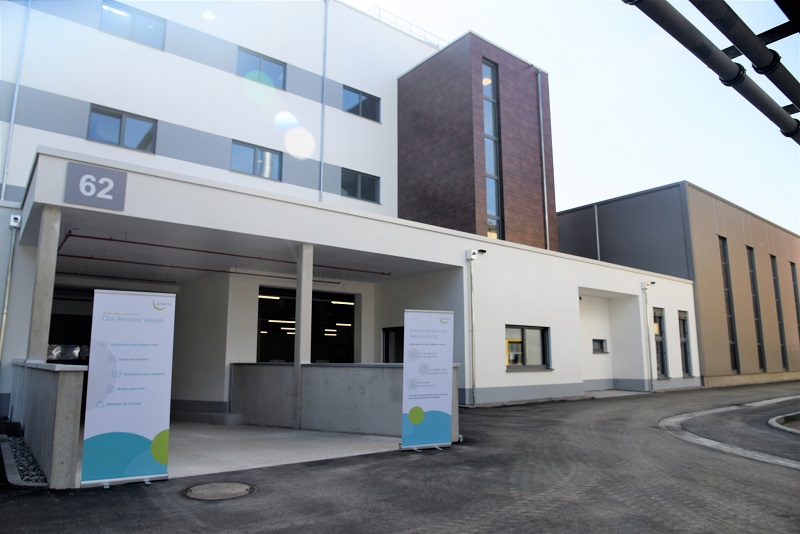 The new building for highly effective pharmaceuticals at the Aenova site in Regensburg, Germany (Photo: Aenova) / DR
Cytotoxics and cytostatics are in increased demand in the global pharmaceutical market. To meet this steadily increasing demand, Aenova has built a new building at its Regensburg site for the development and production of highly effective active pharmaceutical ingredients.

The total investment of around €25 million will enable the company to significantly expand its production of highly potent active ingredients up to OEB 5 and, in particular, of cancer drugs. The new building was opened on June 22, 2023.

The Aenova site in Regensburg has been developing and producing tablets and capsules with highly potent active ingredients such as methotrexate, hydroxycarbamide, azathioprine, imatinib since the 1950s. These are, for example, drugs for the treatment of inflammatory diseases such as psiorasis or arthritis, against autoimmune diseases, drugs against cancer such as leukemia, but also novel drugs (so-called New Chemical Entities, NCE). The special feature of many of these drugs is their high efficacy, which means that the active ingredients already have the desired effect in the smallest doses, but special safety standards must therefore also be observed during development and production.

The new four-story building with a total building area of more than 4,000 m² houses the production and packaging of highly potent tablets as well as the associated laboratories, development, storage and social rooms. This means a significant expansion of the production area and the areas of development and laboratory by over 2,100 m² at the Regensburg site.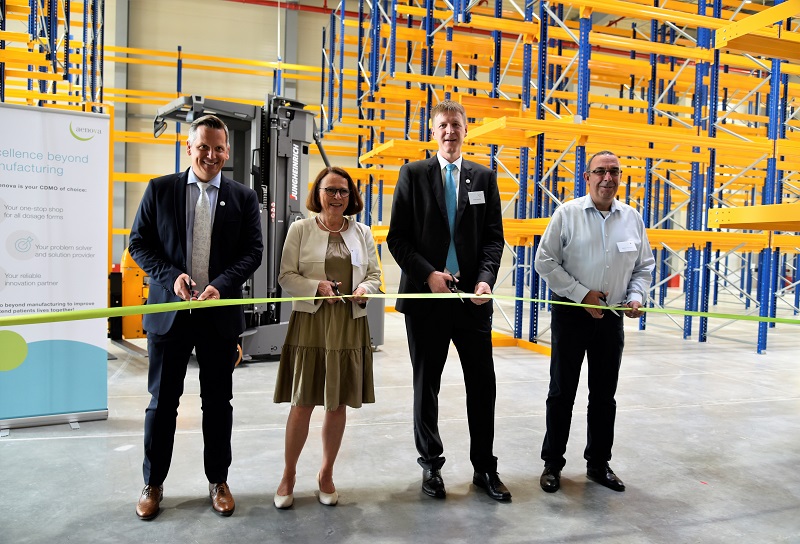 Ceremonial opening of the new building for highly effective pharmaceuticals at the Aenova site in Regensburg. From left: Tim Bauer, Chief People Officer of the Aenova Group, Regensburg's Mayor Gertrud Maltz-Schwarzfischer, Oliver Schmied (Managing Director Aenova Regensburg), Dietmar Rohleder (Prange Group) (Photo: Aenova) / DR
After the planned start-up at the beginning of 2024, the production capacities can thus be increased in volume by significantly more than 1 billion tablets and capsules. An entire floor is reserved for flexible customer requests for "on demand" production, so that existing and new customers can be individually supported in line with their requests. The new building is part of the strategic profiling of the Regensburg site for the development and production of highly effective medicines. Around 400 people are employed at the Regensburg site.
The Regensburg site is "Competence Center HPAPI & Oncology Products" within the Aenova Group with leading HPAPI development, production and packaging facilities for high-potent solids. "The new building is an important milestone for this," explains Oliver Schmied, Managing Director at the Aenova site in Regensburg. "Producing billions of tablets and capsules each year, Aenova is a partner of choice for novel product solutions as well as commercial high-volume manufacturing. A particularly unique selling point is that we offer production flexibility using harmonized production equipment, enabling small to large batches from 0.5 to 500kg for development, CTM, scale up and commercial batches," continues Oliver Schmied.
TO READ Aenova introduces new sterile strategy
---