Last news analysis
---
The ApiJect Gigafactory, featuring the world's largest pharmaceutical fill-finish facility
ApiJect Systems, Corp., is a medical technology company that seeks to change how the pharmaceutical industry fills, finishes, and delivers medicines and vaccines. Its manufacturing platform is centered around Blow-Fill-Seal technology, or BFS for short. BFS is an FDA-recognized advanced aseptic drug packaging technology. The ApiJect platform allows health care professionals in the field to combine BFS prefilled containers with pen needle-style hubs. The medical professional simply has to twist the ApiJect Needle Hub onto the BFS container (which is aseptically prefilled with a precise dose of a drug or vaccine) to create a simple and ready-to-use prefilled injector





On May 12, the Pentagon's Department of Health and Human Services awarded a $ 138 million contract to ApiJect Systems America to coordinate the production of pre-filled syringes for a vaccine. The goal is to create the national emergency capacity to provide 45 million pre-filled injectables per month by 2021. ApiJect has therefore contacted a number of subcontractors, including Ritedose Corporation, a leading American company in the field which has was purchased by the Chinese entity Humanwell Group in 2017. The Ritedose Corporation is a pharmaceutical company that specializes in blow-fill-seal (BFS) manufacturing solutions. Founded in 1995 in Columbia, South Carolina, the company supports pharmaceutical development and manufacturing that require BFS technology for a drug's delivery system. Drawing on decades of experience, Ritedose has become an industry leader with annual capacity reaching over 1.8 billion in its South Carolina-based factory. The ApiJect and Ritedose teams have done the impossible, building the capacity in just a few months to fill and finish up to 45 million pre-filled syringes each month. The new installation of ApiJect will build on this experience.

On November 19, ApiJect Systems, Corp. announced that it had been approved by the US International Development Finance Corporation (DFC) for a $ 590 million loan to build a multi-facility campus for the United States to condition large volumes of injectable drugs and vaccines faster in a national emergency, starting with COVID-19.

DFC Funding Aims to Help ApiJect Build 1 Million Square Foot Campus in North Carolina for Faster Fill-Finish Operation

ApiJect said that when the GigaFactory, as the company calls it, is fully operational, it will produce up to 3 billion single-dose injectors per year. The company expects the project will create some 650 jobs in North Carolina's Research Triangle Park.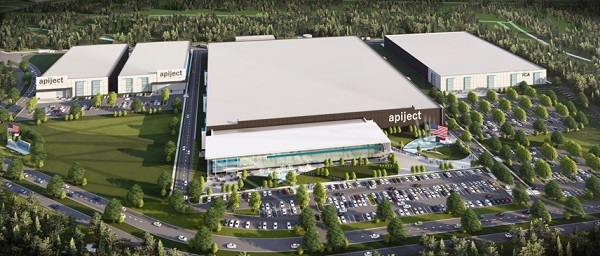 The Gigafactory will be Biosafety Level 2 (BSL-2) capable and support vaccine candidates that require standard cold storage or ultra-cold storage down to -70 degrees Celsius. Each manufacturing line will be isolated, allowing for up to 15 different drugs to be packaged simultaneously. In addition to its BFS production lines, the ApiJect campus will house two separate special-purpose drug manufacturing facilities to handle drugs such as the next generation of antibiotics and cytotoxic drugs, plus an onsite needle and cannula factory to ensure a domestic supply of this important medical supply chain item.

Franco Negron, CEO of ApiJect, said: "The DFC loan allows us to move as quickly as possible from the short-term emergency program of 45 million per month of dose capacity created as part of Operation Warp Speed. to the projected capacity of 250 million doses of the Gigafactory

The Trump administration sees ApiJect as a component of the next phase of the vaccine race. As companies like Pfizer and Moderna prepare to apply to the FDA for emergency authorization to use their COVID-19 vaccines, they will soon need billions of packaging, distribution and injection facilities. doses of these vaccines.

ApiJect's technology has been used for years in the liquid pharmaceutical market, including solutions for ophthalmic products, respiratory therapy and injectable drugs. However, this technology, as Apiject implements it, has not yet received FDA approval. This means that it is not clear whether the Trump administration's bet on the company will pay off.

The DFC loan will be for a 10-year term at an interest rate of approximately 4.5%. Closure of the DFC loan is conditional on the completion of due diligence by DFC and the finalization of financing agreements. Under the terms of the loan, an additional $ 195 million of equity to complete the entire campus is to come from non-government sources. Jefferies Financial Group manages the capital increase of ApiJect.

ApiJect must raise $ 200 million on its own to qualify for federal funds. Rich Handler, CEO of Jefferies Financial Group, Inc., said, "Jefferies is proud to be an investor and looks forward to continuing to raise additional capital to complete this important project."

In keeping with ApiJect's commitment to be an industrial resource for U.S. emergency response, the U.S. government has the right to reserve as many Gigafactory lines as necessary to respond to any national health emergency, such as the COVID pandemic. -19 or any similar future event. The Gigafactory will also fill and complete other vital injectable drugs and vaccines for commercial pharmaceutical customers when it is not dedicated to supplying products for national health security.

PHARMAnetwork has gathered in issue 47 of the magazine the main agreements concluded with CDMOs