Week's news analysis
---
CordenPharma invests in flow chemistry at its Chenôve site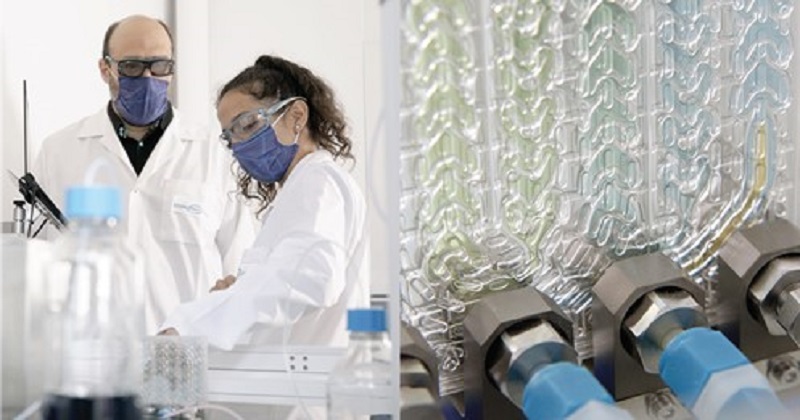 CordenPharma's Flow Chemistry Centre of Excellence in CordenPharma Chenôve (FR)
CordenPharma, has announced the completion of a Phase 1 strategic investment to create a Flow Chemistry Centre of Excellence at its CordenPharma Chenôve facility, near Dijon, France.

CordenPharma Chenôve has, for the past five years, been engaged in projects on behalf of clients to address their specific process issues using flow chemistry and continuous manufacturing. CordenPharma has made the decision to invest in its Small Molecules platform

Phase 1 of the investment program was recently completed with the renovation of an R&D laboratory using state-of-the art flow chemistry equipment and a newly-hired, focused team of experts. At the Head of the Flow Chemistry Centre of Excellence Development Lab is Dr. Clemens Horn, a veteran in flow chemistry who brings 14 years of experience as Senior Research Scientist at Corning S.A.S., where he became an expert in developing industrial flow chemistry processes. The specific role of his group will be to provide fast, initial proof of concept studies to confirm the possible positive impact of Flow Chemistry on specific processes, and then follow up with more detailed development phases optimizing the process, and ultimately establishing appropriate PAT for control purposes.

Phase 2 of the investment has also been initiated, which includes the design and construction of a dedicated GMP flow chemistry pilot facility at CordenPharma Chenôve. This space features the flexible advantage of a modular design concept, with completion anticipated towards the end of 2021. The pilot facility consists of flexible equipment that will enable the facility to manufacture multiple 100 kg quantities, depending on reaction parameters and throughput.

2021 marks the 15 Year Anniversary of CordenPharma. Last October, Lee Newton, Chief Operating Officer, CordenPharma presented the current strategic investments :

"There are a lot of CDMOs in the world that are fixed on one or two technologies. We already have a very broad toolbox and we want to augment that further by investing in a variety of different things. So for example, in our (Small Molecule) Development Center of Excellence in Liestal Switzerland, we will be adding capabilities in bioavailability enhancement, solid-state chemistry and formulation of oral solid dosage forms using purely soluble molecules.

This will also be supported by the Plankstadt site, which manufactures these oral solid dosage forms. There we'll also be adding the capability for doing encapsulation, as well as tableting for highly potent compounds.

Coming back to Liestal, we will also be investing in supercritical fluid chromatography for purification of lipids. Some lipids are best purified that way, some by HPLC, so we will be able to choose the best technology.

Scale-up of the supercritical fluid chromatography will be done in our Chenôve France site. There we are also building up our Center of Excellence in Flow Chemistry for continuous manufacturing, where some molecules are best made using that technology for either purity or safety reasons.

Moving to Italy, the Bergamo site will be getting a brand new development center. Here we recognize that for commercial manufacturing and commercialization of late clinical compounds, the demands of CMC sections are becoming ever more, and we are providing extra capability to provide that data to our customers to ensure that they get a secure and safe launch of their compounds .

Finally in Colorado in the US, we've already added this year, another hundred centimeter HPLC column, and we will be following that up with a downstream continuous manufacturing with liquid-liquid extraction and continuous distillation."
RELATED PCI Pharma Services has acquired LSNE
---