Week's news analysis
---
IDT Biologika is increasing
its vaccine production capacity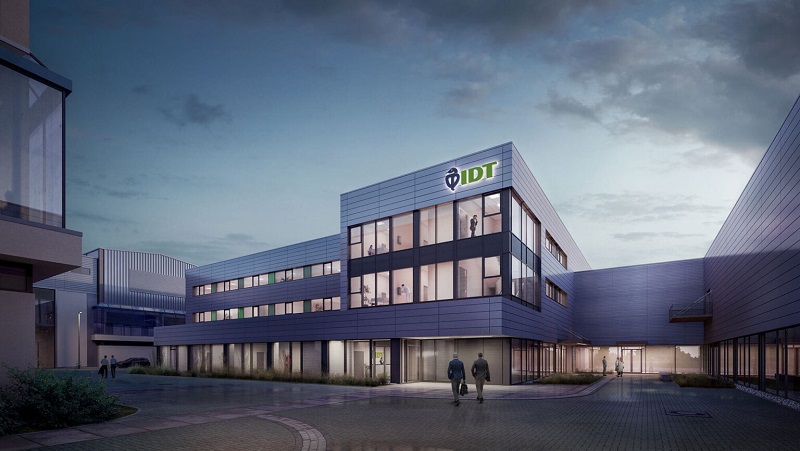 IDT site in Biopharmapark Dessau / DR
The EUR 100 million investment, at the IDT Biologika site in Biopharmapark Dessau, in the expansion is part of a multi-year program to increase manufacturing capacity and capabilities to meet the growing global demand for vaccines and biopharmaceuticals.

The investment will create approximately 350 new jobs from 2020 to 2022, as well as space for drug substance manufacturing, aseptic liquid filling, packaging capabilities and automated visual inspection.

The new multifunctional building will be equipped with four 2,000-liter bioreactors. This makes it suitable for high-volume, commercial drug substance production and ensures great flexibility for upstream and downstream processes. The modular design and use of the existing infrastructure will also enable future expansion in the area of active ingredient production by adding two more units with bioreactors. Parallel to this, the new high-speed filling line, the fastest line currently available on the market, was installed in the adjacent building this week.

The new production units will be used to manufacture vaccines and biopharmaceuticals. They will go into operation at the beginning of 2023.

"As the need for development and manufacturing capacity for vaccines and advanced therapies grows, we will continue to invest in these technologies and highly skilled personnel to support our partners in bringing these vital medicines to market," said Dr. Jürgen Betzing, CEO of IDT Biologika. "With the continued growth of our site, we are making a very vital contribution to Saxony-Anhalt's competitiveness in the biotechnology industry. Moreover, we are creating permanent jobs in the region," Betzing continued.

IDT Biologika is a global biologics manufacturing organization, and meet the needs of multinational customers and pharma companies around the world with manufacturing capabilities in both Europe and North America. IDT Biologika are headquartered in Dessau-Rosslau, Germany, with a second site in Magdeburg, Germany. North American facility is close to Washington, D.C., in Rockville, Maryland. These locations support our fully integrated services and are cGMP and BSL-3 or BSL-2 -compliant, with approvals from the FDA, EMA, and ANVISA.

In last November, Valneva SE and IDT Biologika have announced their collaboration for the production of Valneva's inactivated COVID-19 vaccine candidate VLA2001.
RELATED Vetter's new clinical manufacturing site in Rankweil, Austria
---