Week's news analysis
---
Unither Pharmaceuticals builds a new dedicated vaccine factory in Amiens, France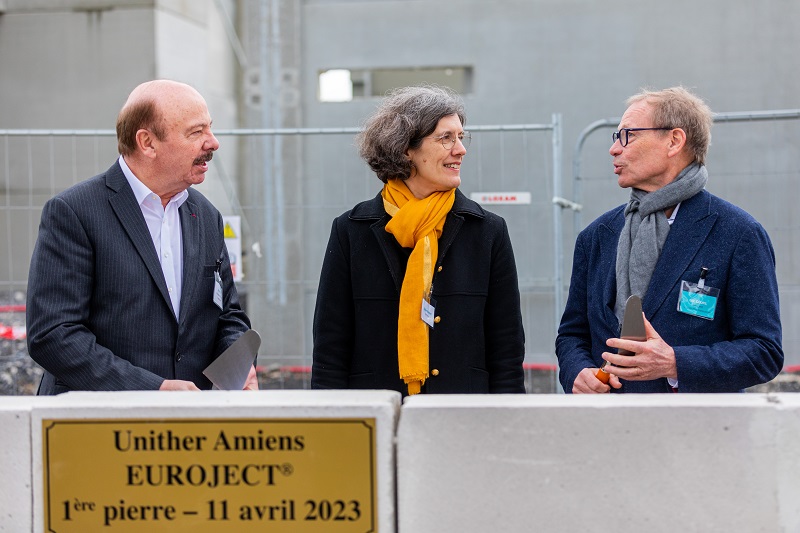 Start of work on the Euroject plant in Amiens: Eric Goupil, President of Unither Pharmaceuticals - Sophie Remont, Bpifrance - Alain Gest, Président d'Amiens métropole /DR
Unither Pharmaceuticals, world leader in single-dose BFS, launched the Euroject® project: Disruptive single-use innovation, based on Blow-Fill-Seal (BFS) technology, for the unit injection of vaccines and biological products at a very competitive unit cost.

"We are convinced that Euroject® will be a major player in serving healthcare needs, particularly for vaccinations in low-income countries. Many advantages plead for the development of Euroject®: the ease of use, the cost of the single dose - equivalent to that of the multidose, the reduction of product losses linked to the multidose presentation, the non-contamination of populations due to the reuse of syringes and finally the use of low density polyethylene, which has never been subject to shortages, unlike conventional injection systems". explains Eric Goupil, President of Unither Pharmaceuticals.

"We are proud to be part of this breakthrough by manufacturing and developing injectable products that are not only competitive, but also safe and accessible to everyone. The Euroject® injection device is an example of our continuous efforts to achieve our Vision: to make healthcare solutions accessible to as many people as possible that improve and simplify the patient life. said Eric Goupil

It was shortly after the third confinement, in June 2021, that Uniter Pharmaceuticals responded to the Call for Expression of Interest "CAPACITY BUILDING*" with its Euroject® project. With public aid of €34.8 million granted by the French government and implemented by Bpifrance, the main objective of this project is to enable Unither Pharmaceutical to acquire an innovative industrial tool.

Located in Amiens, the new 6,000 m2 extension of the Unither Laboratory will be dedicated to vaccines and more generally to biological products, requiring NSB (biological safety level) 1 and 2 containment levels. Work began in 2023, and will be finalized in 2025. 3 filling lines will be installed there, and following this, 2 more lines will be added, enough to eventually produce more than 1 billion doses per year.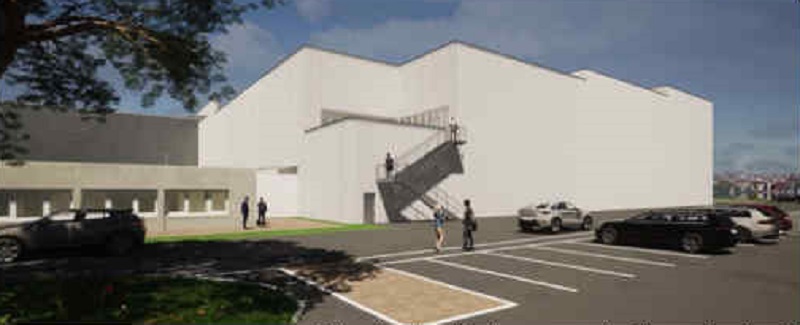 3D visualization of the new Euroject building in Amiens
"This new workshop is an important part of our growth strategy which will position us as a key player in the market for sterile injectable medicines, not only in Europe, but worldwide. With this new installation, we will be able to take on even more complex projects while maintaining high standards of quality and efficiency" said Jean-François Hilaire, CEO of Unither Pharmaceuticals.
Founded in 1993 by Patrick Colin in Amiens, Laboratoire Unither is the first site to specialize in Blow-Fill-Seal technology. Through its long experience, the site has taken a leading position in the manufacture of health products in rhinology, asthma treatment, ophthalmology and antisepsis. Capable of manufacturing more than 1.6 billion doses each year, the site serves customers in more than 80 countries. The site has more than 350 employees.
Unither Pharmaceuticals aims to develop, design, produce and market affordable, easy-to-use products to improve the lives of patients. It is with this vision that CDMO has specialized in the manufacture of dosage forms for pharmaceutical and generic laboratories, and has become the world leader in Blow-Fill-Seal technology (eye drops, physiological serums and anti-asthmatic drugs in doses sterile units) with 8 industrial sites in France, the United States, Brazil and China. Unither Pharmaceutical plans to produce over 4 billion doses of BFS in 2023.
TO READ Unither Pharmaceuticals inaugurates new production workshops at its Coutances site
---